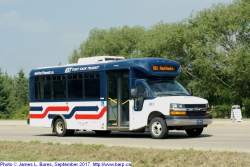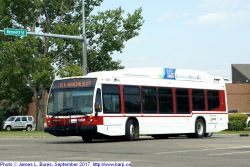 Fort Saskatchewan (Alberta) Transit #283 running EB on 101 Street, approaching Highway 15 as a route 583 - Red Route. The city, located around 25km NE of Edmonton, began operating its own local transit service in the past few years. The commuter service between Fort Saskatchewan and Edmonton, which has existed for a number of years, is still operated by ETS with standard ETS buses.

Red Deer Transit #10147, a 2016 Nova Bus LFS CNG, is seen turning onto 50 Avenue SB at Bennett Street WB as a route 12a - Gasoline Alley. The bus is decaled for Red Deer County (rather than just Red Deer Transit) as it typically operates on regional routes rather than local routes.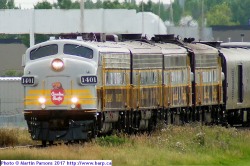 Happy 150th Canada! Two highlights of the summer have included heading down to Stettler to photo the Alberta Railway Museum's ex CN 1913 MLW 4-6-0 class h-6-g locomotive #1392 running in tandem with Alberta Prairie Excursions 1920 Baldwin 2-8-0 #41, and catching the Candian Pacific Canada 150 train arriving in Edmonton. On the day we visited Stettler, they were running a freight train and passenger train and then swapping locomotives. Here we see 1392 departing Stettler on it's first trip of the day with a string of tank cars (modern tank cars, but, a decent compromise in my opinion) and a caboose. The second photo finds Canadian Pacific FP9A #1401 in charge of CP's Canada 150 train arriving in Edmonton on Monday, July 31, 2017. 1401 is an ex VIA, originally CN locomotive and has had significant upgrades internally, as well as being equipped with PTC as seen by the antennas on the roof. 1401 leads F9B 1900, FP9A 4106 and 4107. 4106 and 07 are in the script livery, while 1401 and 1900 sport the block livery.
Webmaster Comments:
Welcome to Barp.ca! Check out the "What's New" page (via the link on the left hand side of this page) for a list of recent updates.
July 27, 2017, August 7, 2017
Time for some new features. First, the ETS index.html page has been updated to reflect the change from "Edmonton Transit System" to "Edmonton Transit Service". Along with the explanation behind that, I added in some other ETS happenings, and then just went all out and created a Edmonton Region News section on the Alberta page. There's a lot more to come. Given that the 3 of us who pay to keep Barp online live in Edmonton, I don't foresee this expanding past the Edmonton Region, but, things are getting more and more interesting around here in terms of transit and initiatives, like Smart Bus, starting to cross City boarders. These pages will cover those changes. Secondly, for a long time I've wanted to get up more history in addition to photos. That will include written features, as well as historical documents and other material along those lines. Those are starting to materialize and while I didn't set it up myself, we already have some material like that available here. More to come this summer!
To expand on this, as of August 7th we have introduced a new section featuring material from vehicle manufactures, and as well we have taken some of the material from the above link (which might be dead now) and started to organize it and arrange it, like this ETS page for Ride Guides and route timetables/ maps.
November 1st, 2016
The near future is finally here, only about 1.5 years later. The Highway Coach section is once again operational, with many new images on the way!

May 17th, 2015
Site upload complete; welcome to the new server. All pages should now be functional, with the exception of the Highway Coach section. Stay tuned for a new and improved version in the near future!

April 1st, 2015
We're expecting Barp.ca to be be down for a few days coming up. The short story is that we need to update our control panel to allow for the incorporation of new features. While this might not lead to any notable changes, it will provide us with a number of new tools should we utilize them. Above all, it means that we will be "getting with the times". We've been with our current shared hosting for quite some time and our control panel is literally from the last century. When I switch name servers there will most likely be a short time where Barp.ca will be unreachable while the updated DNS propagates through the internet. We will also be re-uploading everything. My tentative plan is to upload everything first and then change the name server information to point to the new location. You'll know if everything has worked right as the offline notice above won't be visible.
Thank you for your patience!