Ex-Edmonton Transit #946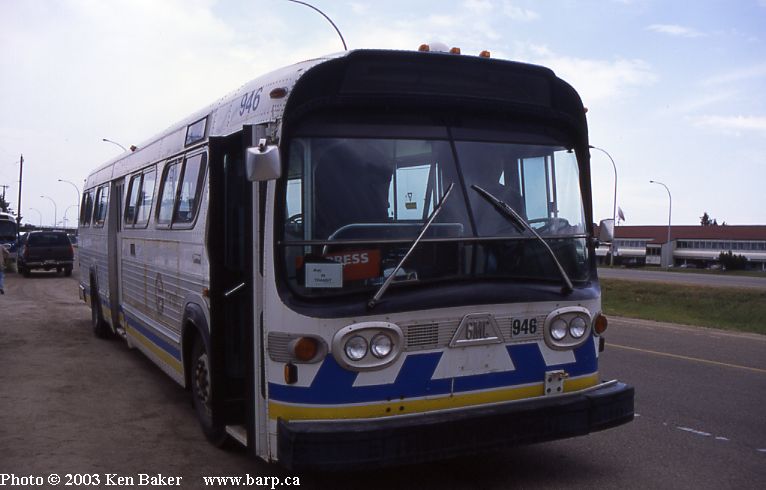 Ex-Edmonton Transit #946 is a 1980 GM T6H5307N, one of the first group of them to be retired from Edmonton Transit of this year. This bus, along with some other 1972, 1974, 1975, 1976, 1977, 1978, and 1980 GM T6H5307N's were auctioned off after being last used for the IAAF World Track & Field games that Edmonton hosted in August 2001. After the Track & Field games, this bus along with about 55 other buses were prepared for retirement from Edmonton Transit and was put in an auction. It was acquired by A1 Auto Salvage of Edmonton Alberta (see www.barp.ca/a1/ for more buses for sale) on September 15, 2001 where it was put up for sale. A new charter bus company in Calgary named More Better Buses operated by Canadian Premier Charters purchased this bus, along with Ex-Edmonton Transit #965 and 368 for use in their charter bus business. Out of the three buses that Canadian Premier Charters purchased, this one was the best one cosmetically, although 965 is the best for feeling solid and for power. Although these buses were not purchased exactly for the purposes of restoration, I thought that it would be a good special section to put together to show the transformation from Edmonton Transit to Canadian Premier Charters' look. In this section, I plan on showing this bus from before retirement to today showing how this bus has gone through 3 different owners (Including it's original owner).
Photos around A1-Auto Salvage:
The two shots above show 946 at A1 Auto Salvage on July 20, 2003 when Canadian Premier Charters purchased this bus. From here, it was a quick drive out for gas and then it was on it's way south with the bus.
Photos at the Husky Truck Stop near Stony Plain:
These 3 photos above show us stopped with the bus for fueling at the Husky Truck Stop near Stony Plain. Shortly after we left from fueling, we got the bus back on the road and ran into a little mechanical troubles that wasn't anything big.
Back at A1-Auto Salvage again:

After we finished fueling and got the bus back on the road, there was a little bit of mechanical troubles with the bus. Since A1-Auto Salvage was on our way back, we took the bus back to look it over. After about a half an hour of working on the bus, we got going and headed south towards Calgary with the bus.
A supper stop at Leduc:
After getting on the road and finding a place to stop quickly for supper, we stopped at a McDonalds in Leduc for a quick bite to eat. After finishing off our supper, I took these photos while we were stopped. From here, we continued south towards Calgary.
Photo Stop at the Red Deer Rest stop:
(North of Red Deer on Highway 2 South)

At this stop, we decided that we should stop for a quick look at the engine to make sure everything was in working order. While we were here, I took advantage of taking one last photo in somewhat good daylight. Out of all the photos I took of this bus, this one is still my favorite photo of this bus.
A Pit Stop in Innisfail:
After looking for a place to stop for a washroom break, we pulled over near a gas station in Innisfail for a quick stop. The first photo I was hoping that there was enough light out there, but unfortunately there wasn't, however the rear photo turned out pretty good. After we were ready to go, we brought the bus into Calgary shortly after midnight.
Since the conversion from Edmonton Transit to Canadian Premier Charters:
Photos taken on June 17, 2004:
This was the big day for this bus. More Better Buses, operated by Canadian Premier Charters, took this bus in to a local paint shop in NE Calgary to have the bus repainted into it's new colors of red and cream. After most of the decals were stripped and the bus was cleaned to bring in for painting, the bus was dropped off to be painted.
Photos taken on July 1, 2004:
Shortly after the bus had been repainted, More Better Buses took 946 into a local 3M decal shop to have it's decals made up and was officially renumbered to 331 only days before this photo was taken.
Photos taken on July 4, 2004:
One of it's first charters that this bus operated on was a shuttle service between Symons Valley Ranch just on the outskirts of NW Calgary to the Sheraton Suites - Eau Claire in downtown Calgary. The first 4 photos show the bus photographed in a charter bus zone on 2 Ave SW next to the Chinese Cultural Centre in downtown Calgary. The last 3 photos show the bus on layover at the Symons Valley Ranch after a trip out there.
Photos taken on July 11, 2004:
And finally, last but not least, is 3 photos taken during a charter that the Alberta Transit Fans held on July 11th, with people even from BC attending the charter. The first two photos show the bus photographed at the Calgary Exhibition and Stampede Grounds and the last photo shows the bus photographed on 2 Street SW near Riverfront Avenue beside the Eau Claire Market shopping centre (Right) and the old former Greyhound Garage (Left)
This page last updated on August 24, 2004