Ex-Edmonton Transit #944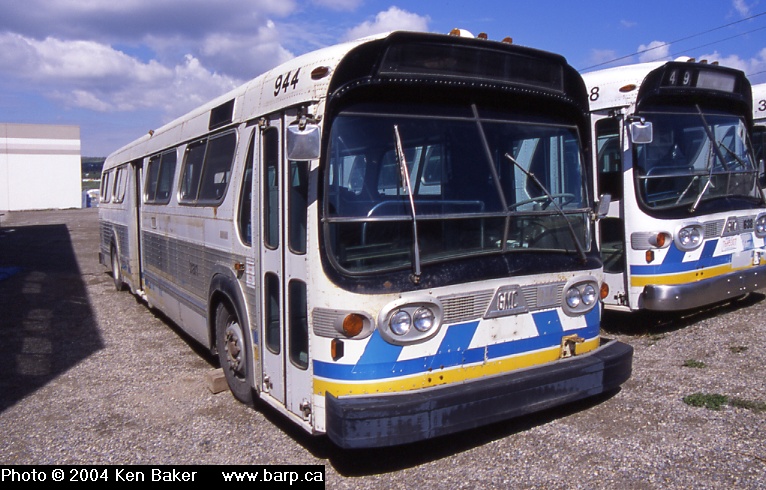 Ex-Edmonton Transit #944 is a 1980 GM T6H5307N, one of the first group of them to be retired from Edmonton Transit of this year. This bus, along with some other 1972, 1974, 1975, 1976, 1977, 1978, and 1980 GM T6H5307N's were auctioned off after being last used for the IAAF World Track & Field games that Edmonton hosted in August 2001. 944 didn't make it out to the IAAF World Track & Field games, but was kept in storage at the Patterson Compound before being disposed of in late 2001. It was acquired by A1 Auto Salvage of Edmonton Alberta (see www.barp.ca/a1/ for more buses for sale) in September 2001 where it was put up for sale. A1 Auto Salvage held onto the bus until April 2004 when it was purchased by Canadian Premier Charters with the intent of repairing the bus back to operational standards and one day operate it in service alongside Ex-Edmonton Transit #946 and 965 that have been owned by Canadian Premier Charters/More Better Buses since July 2003. Although these buses were not purchased exactly for the purposes of restoration, I thought that it would be a good special section to put together to show the transformation from Edmonton Transit to Canadian Premier Charters' look. In this section, I plan on showing this bus from before retirement to today showing how this bus has gone through 3 different owners (Including it's original owner).
Before being sold from Edmonton Transit:
May 22, 2000:
944 is shown along Jasper Avenue at 103 Street in downtown Edmonton as a Route 5 - Westmount on a beautiful Victoria Day Monday. GM's in Calgary where this bus ended up were rare enough to see out on a holiday in recent years to this photo, but Edmonton still runs GM's on the weekends and holidays. It's a shame that the Route 5 wasn't a trolley bus that day, but if it was, I wouldn't have got this photo.
April 28, 2001:

Almost a year later than the previous photo, 944 is shown retired inside of the Patterson Compound where it sat until later that year when A1 Auto Salvage.
After being sold from Edmonton Transit:
August 11, 2003:

Shown in the last bit of afternoon sunlight, 944 is shown photographed at A1 Auto Salvage waiting to be sold off at this point. After being sold from Edmonton Transit, this bus had the rear window removed and it looked like someone had a party in there with some empty beer cans all over the interior, covered with plenty of dust from the adjoining highway that is right behind me in this photo.
And with Canadian Premier Charters:
April 26, 2004:
And in it's new home in Calgary, Ex-Edmonton Transit #944 is shown the day it arrived from Edmonton. Canadian Premier Charters/More Better Buses purchased this bus back on April 22, 2004, about 4 days before these photos were taken. This bus was purchased with the intent of fixing it up to place it into charter bus service in the future. The first 4 photos above shows 944 when it was just about to be dropped off while the last 4 photos show the bus after it had been dropped off and parked.
May 23, 2004:

About a month after being delivered to Calgary, 944 had got a new rear window from Ex-Calgary Transit #859 that was scrapped late in 2003. When the rear window was installed, it had the right side exhaust cowling added in that normally is a flat piece of fiberglass in that place.
May 25, 2004:

And a couple of days later after the previous photo, 944 is shown on a sunny morning at the Canadian Premier Charters/More Better Buses yard. This bus was cleaned out from top to bottom by this point and looks a million times better than it was delivered in Calgary as.
The plans with this bus:
The future plans with this bus is to eventually have it refurbished to match the look of Ex-Edmonton Transit #946 and 965, which will include repairing some body panels, repainting the bus, and replacing the engine. Eventually after this bus has been refurbished, it will be renumbered as 332.
This page last updated on October 30, 2004