Ex-Winnipeg Transit #271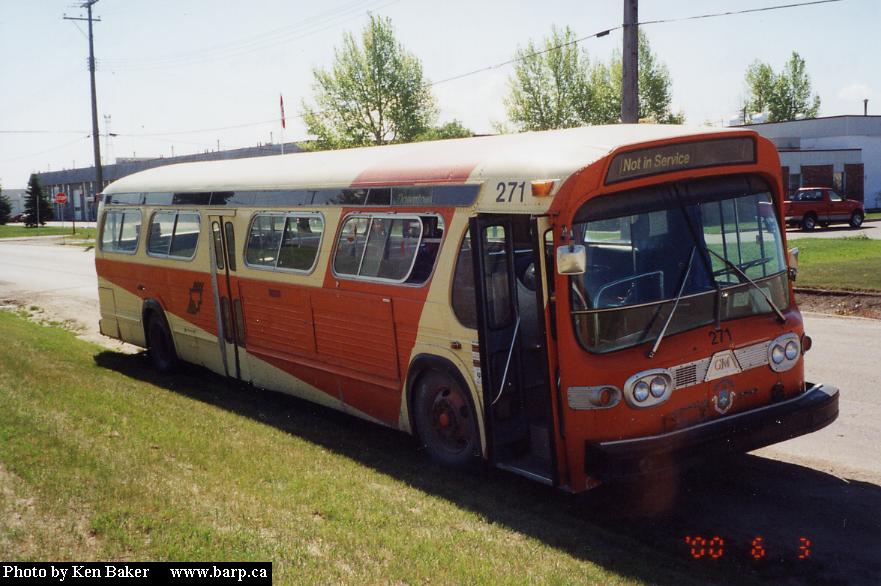 Winnipeg Transit is a 1960 GM TDH5301, purchased new with 8 other buses, numbered 150-159 originally. These buses were painted orange around the windows and the front with a cream roof and silversides on it. This bus ran as number 158 from delivery in September 1960 until around 1979/1980 when it was pulled off the road and stored. Winnipeg Transit had decided to refurbish most of the TDH5301's and the TDH5303 that they owned, repainting them into the paint scheme shown above. During the refurbishing process, these buses had their chrome bumpers removed and replaced with energy absorbing Firestone "HELP" bumpers on both front and rear, replaced rotted body panels, repainted the entire bus, added power steering, added and replaced the signal lights, replaced the engine door with a newer one, and several other modifications too. Later in life, the TDH5301's and TDH5303's were to have their lower exhaust changed to an upper exhaust system. In 1999, the last of the TDH5301's that had survived this long were due to be retired, along with the 1977/1978 Flyer D800B's and some of the 1965-1967 GM TDH5303's. The last service that these buses saw was being used to transport athletes to the Pan AM Games in Winnipeg and having the buses pulled shortly afterwards.
271 was later retired and sold to Steve Parkin who originally planned to restore this bus and purchased the bus on August 23rd, 1999 and had it transported back to Red Deer, Alberta. While Steve owned the bus, he had it stored and was awaiting the restoration. Later, Steve had purchased another bus to restore and decided to sell this bus to myself (Ken Baker) on June 3rd, 2000. After purchasing the bus, I brought it down to Calgary from Red Deer and began work on restoring it.
Since I have owned the bus, I have done some cleaning up of the interior, began to remove some of the retrofits such as the next stop sign and changing the signal lights back to the original style, began to change the bumpers to the stainless steel ones that were later to be re-chromed, and searching for an original TDH5301 style tailgate with the matching aluminum trim plates for the front marker lights.
Unfortunately due to the relatively high cost of this restoration project and the rarity of some of the parts, I had decided to hault the restoration process and use this bus for parts for future restoration projects, such as my Edmonton Transit #638. The bus is still mainly complete and what parts were removed still remain, but in boxes. The estimated cost to restore this bus to like new condition, including buying most parts new or used, rebuilding the engine and replacing body panels, etc. could have been upwards of between $70,000 and $90,000 (Cost as per current bus refurbishing prices) This is one of the major reasons that I wanted to just purchase a replacement bus to restore instead of investing lots of money into this bus.
Plans with the bus:
Since I decided to halt the restoration process, I have sold this bus off to Canadian Premier Charters in August 2003. They plan on restoring that bus to look like a TDH5301 again, however there is two looks that this bus will be considered. You can vote to see this bus restored as one of the two looks shown below:
Calgary Transit Seafoam Green and Oyster White

Renumbered as 399

Winnipeg Transit Orange and Cream

Renumbered back to 158
To vote for which way you would like to see this bus restored as, please send an E-Mail to L. C. Slaney by clicking this link and voice your opinion on the way it should look. Any information and photos that can help with the restoration would be appreciated. They can be sent to the same E-Mail address above.
Help to save a historical bus!
Attention bus fans. This is your chance to help save one of the oldest GM TDH5301 model buses still in existence in Canada. This bus, a 1960 GM TDH5301 with serial 1577, is one of the oldest GM TDH5301's still known in Canada. Your donations are appreciated to help out with fixing this bus to either one of the two looks shown above. Those who donate will have their name listed on this website as well as having their name shown on the advertising panels on the inside of the bus. Your help is much appreciated with this project bus. One day it will look like it's "as delivered" condition with the proper taillights and marker lights with either the Calgary Transit seafoam green and oyster white livery or the Winnipeg Transit livery of orange and cream.
To make a donation to this bus, please click the link above to make a donation via PayPal. You will be taken to PayPal's secure website where you can make a donation using your bank account or your major credit card (Visa, Mastercard, Discover, and American Express). All donations collected from PayPal or from other forms will be put towards the cost of restoring this bus. Restoration items that will be completed includes repainting the bus to either look like Calgary Transit's Seafoam Green and Oyster White livery or the Winnipeg Transit livery of orange and cream. (See the photo above under the section "Plans with the bus"), doing some minor body work, some minor engine work, and other smaller stuff that will be done to the bus (Such as logos, paper items like transfers and schedules, replacing the taillights to the original "as delivered" style and more) along with anything else related to restoring this bus. If you wish to make a donation of cash or money order, or donations of photos and information that may help with this restoration, please mail it to the address below:
Restore-A-Bus - Unit 271
C/O Canadian Premier Charters/More Better Buses
Box 75056, Cambrian RPO
Calgary, Alberta Canada
T2K 6J8
Thank you for your donation and we hope to have this bus restored soon! Any other questions or comments can be directed to L. C. Slaney by clicking this link
Pay me securely with any major credit card through PayPal!
In this section, I hope to show photos of the bus from start to finish and including photos of the bus being scrapped, showing most of the changes since. I will be adding more photos to this section as I have time to put together more information including while the bus was being restored with Canadian Premier Charters/More Better Buses too.
Photos while under restoration:
June 2000 to August 2003 while being restored by Ken Baker:
Photos of the bus, taken June 3rd, 2000:
The above photos show the bus the day I purchased the bus. The first two photos were taken in Red Deer, Alberta, the third photo taken at a rest stop on the north side of Airdrie, Alberta, and the last photo taken in Calgary, Alberta at the RV Lot it still resides in
Photos taken June 12th, 2000:
The 4 above photos were taken to document the paint scheme so that if the bus were to ever be repainted into this paint scheme, it could be done to a 98% accuracy
Photos taken June 21st, 2000:

The above photo was one of the last photos taken just before I had unsealed the emergency exit door and replaced it.
Photo taken July 2000:
The above photo was taken after the emergency exit door was unsealed and replaced. This door came off of a 1966 GM SDM5302 (Serial 841)
Photos taken August 7, 2000:
The above 3 photos were taken just before the bus was put to sleep for the winter. The first two show the bus with a 1960 Manitoba License Plate and the third photo taken with Ex-Calgary Transit 514 beside it. Calgary Transit 514 was the second Flyer D800 produced and is one of two only surviving examples of this model of bus from Calgary Transit. The others were sold from Calgary Transit as follows: 1974 D800's 513-521 were retired and sold in 1990 with 514 being one of the only ones we have confirmed still exist, 1976 D800 503 went to the Calgary Fire Department and was just retired, 1976 D800's 504-512 went to Winnipeg Transit and were retired in around 1994 or so?
Photos taken April 17, 2001:
After the fall of 2000, 271 had seen it's first major changes to it's looks since I first got the emergency door replaced on the driver's side. With the help of Steve Parkin, the rubber bumpers were removed (Photos to be added at a later time) and sat the winter without any bumpers on it. When the weather got better, I decided to take advantage of the warmer weather and installed the front steel bumper. In the series of 6 photos above, you can see from the first two photos showing the bus without it's bumper, then the second two photos with the bumper partially installed, and then the last two photos with the bumper finally installed. To go along with the "BC Transit" look that I gave this bus back in late 2000, I put a license plate from BC on the front and added the destination Route 3 - Main like it could have ran if the bus was in Vancouver. I wasn't a big fan of the way Winnipeg Transit had their destination signs because I couldn't get specific names with specific routes all the time.
Photos taken June 3, 2001:
Today was the one year anniversary of owning this bus. I decided to take advantage of this anniversary to photograph the bus in it's new look that I gave it since purchasing the bus. For a comparison, take a look at the top of the page to see the bus as I had originally purchased it as.
Photos taken July 4, 2001:
The above 4 photos were taken in the summer of 2001 after I had removed the rubber bumpers off the bus. As I only had the newer style steel bumper instead of the older style chrome bumper, I could not install the bumper until I had made the mounting holes as best as possible. Unfortunately I never did get around to doing that. Also since the last photos shown above, I have replaced the old fleet numbers with the fleet numbers 158 and added BC Transit decals to the side of the bus as a joke. Some people did believe that this bus was from BC! I did however get around to installing the front steel bumper as shown in the two front views.
Photos taken August 23, 2002:
Because I decided to halt the restoration process of this bus, I decided to begin the salvage of any parts that I could make use of from this bus, I didn't get too far, but I did manage to remove all but one marker light and turn signals from the front in the way of lights, and did remove the dashboard, a couple of grab rails, destination signs, and a few small parts I felt of use. This day I came out to try and remove the outside dual tires to install on my 1976 GM T6H5307N #638 that I had purchased earlier in 2002 that was missing those tires. Unfortunately I was unsuccessful at getting the tires off and they remained on this bus till sometime in May 2003. This day was the 3 year anniversary since Winnipeg Transit had sold this bus off.
Photos taken October 27, 2002:

After a long wait, the place where I was storing 271 had a spot for my 1976 GM T6H5307N #638 and I brought it into their storage facility. The photo above shows my two buses parked near each other. I nicknamed this photo "East meets West" where my Winnipeg bus and my Edmonton bus got to meet for the first time.
September 2003 to date with Canadian Premier Charters/More Better Buses:
September 1, 2003:
These photos were all taken the day that Canadian Premier Charters/More Better Buses took possession of this 1960 GM TDH5301 bus to continue on with it's restoration process. It was pulled out of the place where I used to store it and Canadian Premier Charters hauled it down to the mechanic's shop where it was going to be looked over to see if it could be made operable. It was later moved to another storage yard by December 2003. Sometime between September and October 2003, Canadian Premier Charters changed the tailgate/taillights from the T6H5307N back to it's original TDH5301 style.
December 15, 2003:
Later on after 271 had sat at the mechanic's shop, Canadian Premier Charters/More Better Buses had this bus towed up to their new lot to have the bus begin on it's restoration process. As shown in the above photo, 271 now sports a TDH5301 style tailgate from Ex-Edmonton Transit #470. About a month later, the original lenses were installed on the tailgate to resemble it's original appearance. Since it's date of acquisition until today, it had remained in storage with the plans of restoring it one day.
November 14, 2004:
After a year of having this bus sitting in storage after it's original date of acquisition, Canadian Premier Charters/More Better Buses had got this bus in operating condition. After changing out the starter, it roared to life for the first time since April 12, 2002 when Ken Baker last drove the bus. Now that this bus runs again, the restoration work may continue and all the lights, seats, etc. that was stripped from the bus will now be put back together so it may once again look like the day it was delivered.
January 30, 2005:
Originally back in the summer of 2003 when 271 was about to be acquired from Ken Baker by Canadian Premier Charters, an original style rear bumper was found to be installed on that bus. Nearly a year and a half after getting the bumper, it was installed today on a warm January afternoon. The two above photos show 271 with the new bumper on it and after the bus had been turned around in the lot.
This page last updated on January 30, 2005