Ex-Edmonton Transit #21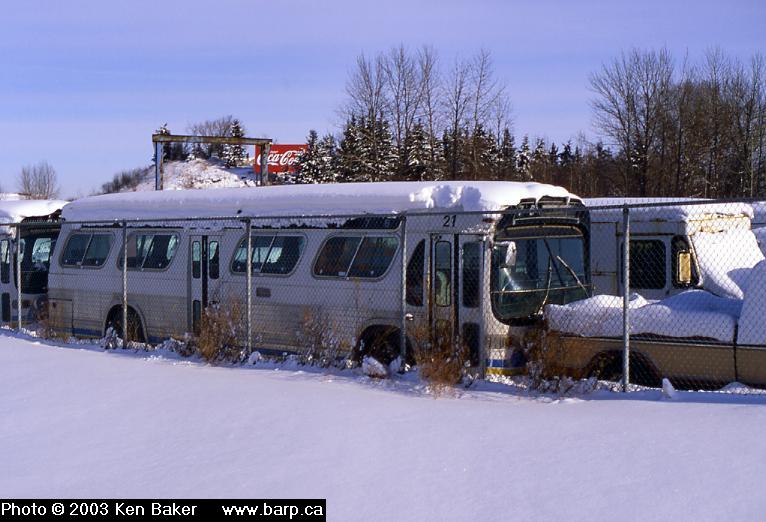 Ex-Edmonton Transit #21 is a 1969 GM T6H4521 bus, powered by the Detroit Diesel 6V71N engine with an Allison VH9 2 speed transmission. This bus was purchased in an order for 15 buses for the City of Edmonton, originally delivered in a red and white livery as shown in the photo below of #2 below in it's "as delivered" state shot on November 18, 1968.

The reddish/orange and white livery was used on this bus up until the late 1970's when it was repainted into it's current paint scheme of a plain white body with the sliversides, a black front, and the blue and yellow reflective stripes. This bus was retired sometime around 1993 when it was found photographed inside the Thomas Ferrier Garage's compound, sometimes referred to "The Morgue" where Edmonton Transit's buses end up at before leaving the fleet. The photo below shows 21 parked inside the Ferrier Compound with new New Flyer D40LF's 231 and 241, along with GM's including 8, 510, 454, 524, 17, and 470, a couple of Flyer D800B's, and Brill #191, photographed in August 1993.

After 21 was sold from Edmonton Transit, it had been parked at A1 Auto Salvage and had been offered for sale until I had began to make arrangements to purchase this bus on August 10, 2003. After spending about a month and a half evaluating the purchase of this bus, I had decided to finalize everything to purchase this bus on October 1, 2003. The only down side to purchasing the bus is that it has been in storage for the past 6 years, so there's definitely some mechanical work being required, and there is a small hole in the body below the rear window caused by rust. Other than that, all it needs to be cosmetically fit is 2 tires, one of the passenger windows on the passenger side to be replaced, replacing the front destination sign, installing a farebox, installing a radio, replacing the emergency exit door handle, replacing some missing and/or damaged seats, and replacing the missing "blank" dashboard gauges/lights.






Some photos showing the bus at A1 Auto Salvage on February 2, 2004


The emergency exit door showing the cut off handle.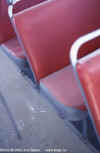 A photo showing the original red and grey seats
The plans for this bus is to get it back to operating condition and making it look authentic to the way Edmonton Transit had operated it if it had stuck around past 1997. Most of that requires to redo all the seats, install the sign, radio, and farebox, and add the decals on the inside and the outside of the bus.
As of April 8, 2004, I no longer own this bus. I have traded ownership of this bus for getting Ex-ETS #22, the twin sister bus to this one. I should have a section for #22 up in the preserved bus section soon.